Evolution, Development and the Predictable Genome
2009.11.06 Friday
ついに!!!
あのDavid L. Sternが湖畔の別荘に引きこもって書き綴っていた大著が近刊となりました!
もちろん速攻で予約注文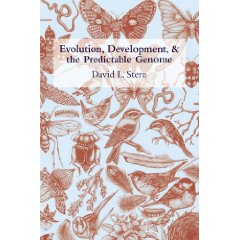 How does development influence evolution? This book explores the idea that development and evolution interact to make genetic evolution predictable. The early chapters review essential principles from developmental biology and population genetics to provide a foundation for understanding the causes of genetic evolution. The penultimate chapter presents a new way of viewing development―through pathworks―that clarifies the role of development in evolution. The last chapter explores the hypothesis that genetic evolution proceeds in different ways in different kinds of populations. Genetic evolution appears to be somewhat predictable. This predictability emerges from the structure of developmental regulatory networks and from evolutionary processes that occur in populations. Evolution, Development, and the Predictable Genome is intended for students and for more advanced researchers who want to learn about the interaction of evolution and development. The book is written in straightforward prose with specialized terminology explained along the way.

---
About the Author
David Stern is Professor of Ecology and Evolutionary Biology and an Investigator with the Howard Hughes Medical Institute at Princeton University. His research addresses the genetic causes of evolution, and his laboratory is currently focused on the evolution of morphology and behavior.

---
Table of Contents
Preface
Chapter 1 – In Order to Form a More Perfect Union
Chapter 2 – Scale Matters
Chapter 3 – Dominance
Chapter 4 – Pleiotropy
Chapter 5 – Epistasis
Chapter 6 – Population Size, Population Structure and Natural Selection
Chapter 7 – Pathworks
Chapter 8 – The Predictable Genome
Historical Note
Acknowledgements
Bibliography
Notes
Index
---
Praise
"This book is a deep, thoughtful, and timely work from one of the best scientists working in evodevo today. It addresses, as no book has done before, the population genetic forces that shape the evolution of developmental programmes and so the diversity of life on Earth. It builds on solid foundations to produce some novel and important predictions. It is rich in ideas; it is written with unsparing lucidity. It may become a classic."
―Armand Marie Leroi, Professor of Evolutionary Developmental Biology at Imperial College London and author of Mutants.

追記:
本人に「出版おめでとう!」ってメールしたら,
「今,コピーエディッティング中なので,あと数ヶ月かかる」
って言ってました.